Home » Headline, Preaching/Sermons
MUST WATCH: Big Difference Between Christianity vs Other Religions
"Most religious groups have got their own set of rules. Most of the people in those groups think keeping our rules makes us righteous. Then they look at the people that keep a different set of rules and say, well ,they're not really righteous because they're not keeping our rules!"
The Risen Christ, Faith's Reality
(1 Corinthians 15:1-5 New King James Version (NKJV): "Moreover, brethren, I declare to you the gospel which I preached to you, which also you received and in which you stand, 2 by which also you are saved, if you hold fast that word which I preached to you—unless you believed in vain. 3 For I delivered to you first of all that which I also received: that Christ died for our sins according to the Scriptures, 4 and that He was buried, and that He rose again the third day according to the Scriptures,"
The Changing Global Religious Landscape
Babies born to Muslims will begin to outnumber Christian births by 2035; people with no religion face a birth dearth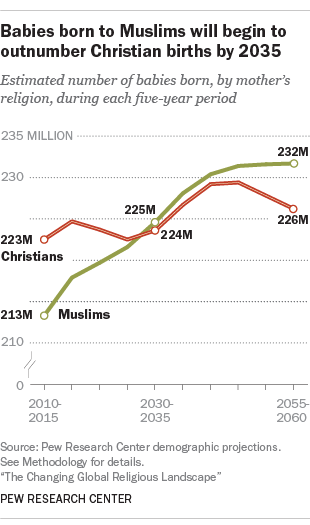 More babies were born to Christian mothers than to members of any other religion in recent years, reflecting Christianity's continued status as the world's largest religious group. But this is unlikely to be the case for much longer: Less than 20 years from now, the number of babies born to Muslims is expected to modestly exceed births to Christians, according to new Pew Research Center demographic estimates.
Muslims are projected to be the world's fastest-growing major religious group in the decades ahead, as Pew Research Center has explained, and signs of this rapid growth already are visible. In the period between 2010 and 2015, births to Muslims made up an estimated 31% of all babies born around the world – far exceeding the Muslim share of people of all ages in 2015 (24%). CLICK TO CONTINUE READING
Tags: Christianity vs Other Religions, Christianity, Religion, World Religion vs Christianity
Partner With Us to Be a Blessing to Many!
Please consider giving or partnering to this Ministry. Your generous contribution will not be wasted as we partner with various ministries helping and reaching out in proclaiming the Good News of Jesus Christ. Promoting this site means a lot to us. Keep us in your prayers.
---